Long Lasting Results! Our patients see and feel results faster than any other light therapy spa or clinic in the industry. With our highly advanced technology and personalized programs, our patients are sure to see and feel results with less frequency and they are able to sustain these results long term. During the course of the program, we provide our patients with the guidance and tools that will empower them to better their health and wellness.

​​​​​​​*Stay tuned for more patient results.

Real Patient Results!
All case studies shown above are actual real patients of Sarasota Laser Lipo. These are not stock photos, shared franchise photos, or photos from other clinics or spas. Results may vary, as we customize each patient's plan to their individual goals and needs. Our professional staff will personalize a plan specifically for you.

Long Lasting Results Gallery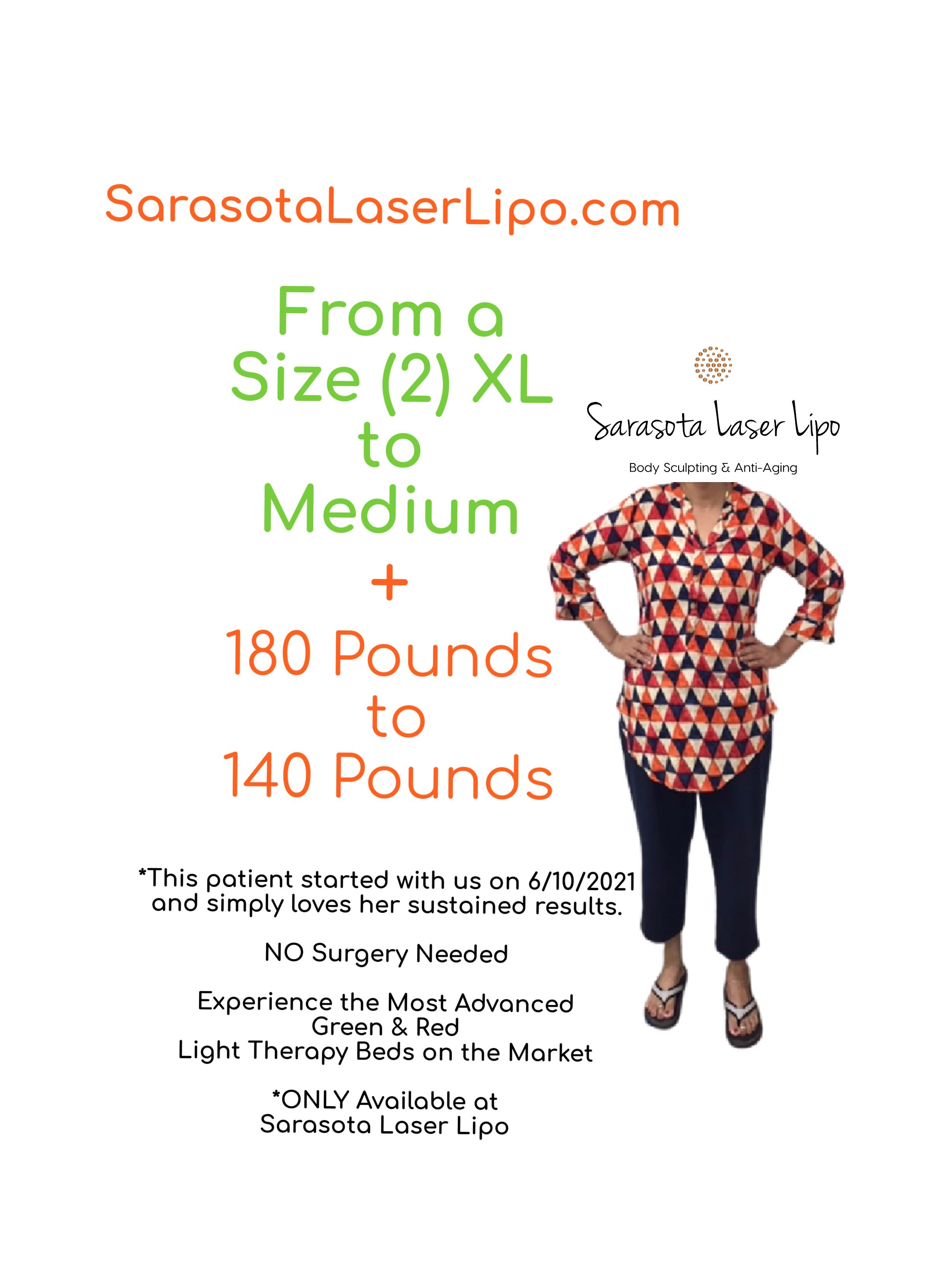 *Case Updated 12/14/2022.  This patient started with us on 6/10/2021, has sustained her results long term and feels amazing.  She mentioned that she went from a Size (2) XL to a Size Medium and from 180 pounds to 140 pounds.  Congrats!

139.8 Inches + 25 Pounds Lost!  (12 Treatments)

This is her journey:
In 4 weeks/4 treatments:   51.3 Inches + 12 Pounds of fat lost.
In 8 weeks/8 treatments: 86.9 Inches + 20 Pounds of fat lost.
In 12 weeks/12 treatments:  139.8 + 25 Pounds of fat lost.

Note: This patient has completed her program and has had (12) treatments. She was looking to lose the stubborn fat, tone and tighten their skin, reduce signs of aging and improve her overall health.

Targeted Areas: Full Body
Plus toning and tightening of the skin by stimulating Collagen and Elastin production in the face, neck and body. We used our "Multi-Wave", Pulsed Treatment Protocol with (12+) Green/Red Frequencies combined, for optimum results.